San Diego
San Diego residents lose parking for bike lanes on Azuaga Street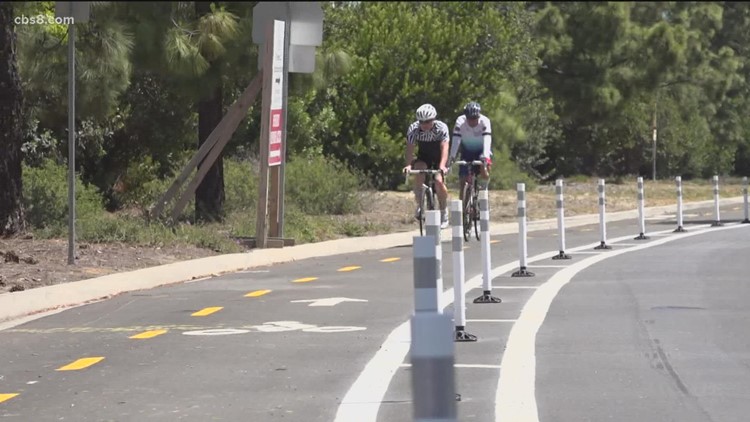 CBS 8 has been working for you because the bike lanes first appeared on Azuaga Street. Some say the lanes are wanted, others complain the lanes took away parking.
SAN DIEGO — More bike lanes put in throughout town are being met with a number of combined opinions. CBS 8 has been working for you because the bike lanes first appeared on Azuaga Street in Rancho Peñasquitos. 
Some say the bike lanes are wanted for security, whereas others complain the brand new devoted bike lane took away their parking.
We initially got here out to Azuaga Street earlier in April after certainly one of our viewers emailed us saying there are issues with the bike lanes. 
Once we arrived, we noticed or ourselves between the incoming bike lanes and lack of parking, an even bigger concern was brewing on this neighborhood. Now, the bike lane project is full nevertheless it's getting combined opinions. 
WATCH RELATED: New bike lanes in Rancho Pensaquitos trigger concern
One biker CBS 8 spoke to stated, "When I first started riding it, it didn't have the cones up so the cones make it feel a lot more safe. I think this bike lane is great. I know that bike lane in Mira Mesa, I mean, I'm a cyclist so I love bike lanes everywhere, but that bike lane in Mira Mesa, I can understand the frustration with it." 
Meanwhile, Jennifer who lives within the space stated, "They took away dozens of parking. They forced all of these cars up the hill here where it's completely dark. I don't feel safe parking on this side of the hill. There's no streetlights."
Jennifer says not solely do they want extra parking they want town to speak higher and take heed to what the individuals who dwell right here need to say. "I understand there was a county wide initiative to install these bike lanes. However, the failure to communicate, the failure to give us notice and the failure to seek our responses and what the impact will be on our community is where they really erred."
Jim McCorkle is the president of the Cantabria Homeowners Association. He's hoping there may be some sort of compromise. "The parking problem is at night. People leave to go to work here during the day. The bikers here are on Saturday and Sunday, during the day. I guess one compromise is let them parallel park at night time with a bike lane during the day?," stated McCorkle.

We reached out to the City of San Diego for remark on this story. They despatched us this assertion that claims, 
"The Azuaga St. bike lanes are part of the City Council-approved Bicycle Master Plan and connect two segments of the highly popular SR-56 bikeway. Azuaga St. was recently resurfaced for the first time in 13 years, providing the opportunity to install this planned protected bikeway to greatly increase safety for riders who frequent the SR-56 path. Parking for residents remains on the south side of Azuaga St., where there are lights and sidewalks, as well as on surrounding streets."
The City has scheduled a Zoom meeting with the individuals who dwell on this space for Tuesday morning to take heed to their suggestions. The San Diego Bike Lane Master Plan was accredited again in 2013.
If you need to verify the bike lane grasp plan to see if bike lanes could possibly be coming to your neighborhood, click on here.